Clean Power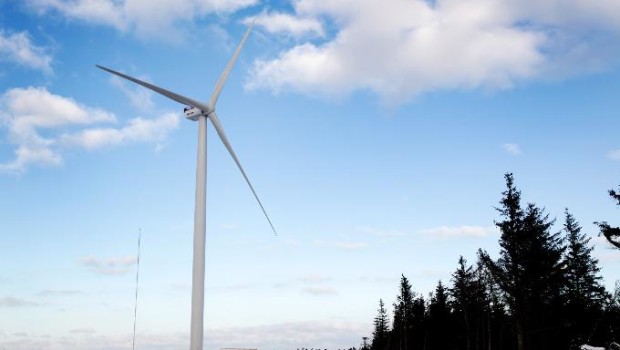 Published on September 15th, 2015 | by William Steel
45
Siemens Looks Toward Next-Generation 10–20 MW Wind Turbines
September 15th, 2015 by William Steel
Siemens has for some time been known to have its sights on developing the next generation of wind turbines — a class of platforms rated to 10 MW and above. But as a new manufacturing plant takes shape, the company's management has begun speaking more openly on activities geared towards those objectives.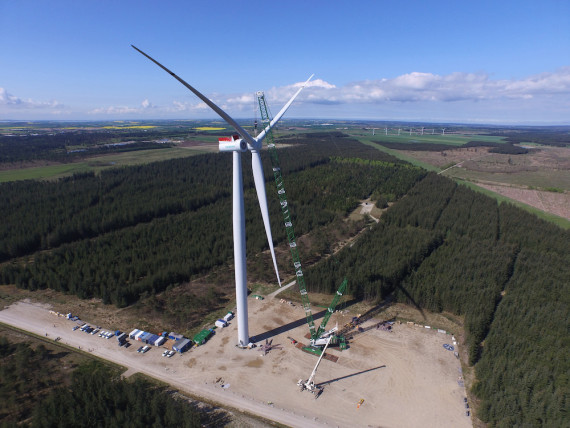 Siemens recently signed off on a new German factory that will produce its flagship 7 MW offshore turbine. The new manufacturing plant is slated to begin production in mid-2017 and will be tasked with assembling generators, hubs, and nacelle backends together into complete nacelles — the working body of wind turbines to which blades are connected.
The factory will occupy 170,000 square meters at the North Sea port of Cuxhaven in northern Germany and employ some 1,000 personnel. The positioning of the factory is significant in its own right as placement by the port will allow large offshore components to be loaded directly onto vessels transporting the technologies, thereby reducing ground-transport costs of turbine components.
Investment in the factory is stated to be €200 million ($217.2 million). That investment, and plans for double-digit turbines are all part of Siemens' push to lower the levelised cost of energy (LCOE) of offshore wind power, and achieve a one kilowatt hourly rate of 10 euro cents by 2020.
In an interview with Recharge, Siemens offshore wind chief executive Michael Hannibal explained how plans for the factory fit into a much broader, longer-term vision that his company holds for positioning itself as a key developer of next-generation wind turbines.
Although initially outfitted to assemble 7 MW turbines, the Cruxhaven plant will be built with the future in mind — able to switch, at some point, to assembly 10 MW turbines which the company revealed plans for last year.
That being the case, Hannibal also hinted to Recharge that, "We don't call it a 10[MW development turbine], we call it a 1X[MW one], because we do not know how big that X will be."
So, a flagship 7 MW turbine being assembled in a new manufacturing plant that's capable of producing turbines of 10MW or more — it's exciting news, but how does it fit into the landscape of ever-larger turbines, and why is it significant?
Let's begin with the Siemens 7 MW turbine (technically the SWT-7.0-154), the company's latest offshore wind turbine. Although it was only installed as a prototype at the Danish offshore wind National Test Centre in Østerild earlier this year, it's already been selected for installation at several major offshore projects.
In itself, it's a significant development in the evolution of wind turbines. Featuring Siemens' "direct drive" technology, the SWT-7.0-154 is gearless — a technology that renders the turbine highly compact whilst reducing its mass. Indeed, the SWT-7.0-154 is the lightest turbine in its class.
Reducing turbine mass is an ever-present aspiration for wind turbine engineers, as it facilitates the ability to build taller wind turbines which are able to harness more powerful winds present at greater heights. By lowering mass, towers and foundations supporting nacelles may also be engineered using less steel, thereby saving on manufacturing costs. Lastly, direct-drive designs also reduce operation & maintenance (O&M) costs since gears represents a significant cause for failure and repairs.
The 7 MW model is pitched to yield some 10% more power than its 6 MW predecessor at comparable operational costs, producing 32 million kilowatt-hours of clean electricity under offshore wind conditions, enough energy to supply up to 7,000 households. It's electrical output is in large part due to its huge rotor diameter of 154 meters.
(It ought to be noted that Siemen's 7 MW machine is not the world's largest turbine. That record goes to Vestas' V164-8MW turbine.)
But while a 7 or 8 MW platform should be seen as advanced, it pales in comparison to Siemens' vision to develop turbines rated at 10 MW and above. Last year, Recharge reported on those plans. Quoting Siemens Wind Power CEO, Markus Tacke, it wrote: "You look at the lifetime of our [nameplate capacity] platforms — 3.6MW becomes 4.0, then you move to 6.0 and upgrade that to 7-point-something [MW]. Another three to four years and you need the next product."
By those indications, and with the latest information, we should expect that, by 2020, we will see the introduction of 10 MW platforms, predicted to have a rotor diameter greater than 200 meters.
Siemens is already a leader in European offshore wind power with a 86.2% market share of connected MW at the end of 2014. It has some 1,470 turbines installed in waters around the world, reaching a combined capacity of 4.7 GW. Considering the development trajectory it's laying groundwork for, it's plain to see that the company intends to retain its leading role in the industry.
Industry projections may produce upper limits on turbine height and size, but these certainly won't be reached before the end of the next decade. In the meantime, therefore, expect to see larger, more powerful turbines being introduced and the costs of electricity derived from wind power fall yet further as a consequence.
---
Buy a cool T-shirt or mug in the CleanTechnica store!

Keep up to date with all the hottest cleantech news by subscribing to our (free) cleantech daily newsletter or weekly newsletter, or keep an eye on sector-specific news by getting our (also free) solar energy newsletter, electric vehicle newsletter, or wind energy newsletter.