How wind can supply B.C.
with clean, renewable electricity
Long proven as a source of clean, renewable power, wind is by far the world's fastest-growing source of electricity. European Union countries increased their wind energy by over 150 per cent between 2000 and 2006. And the trend continues, with a range of independent companies competing to fill the demand.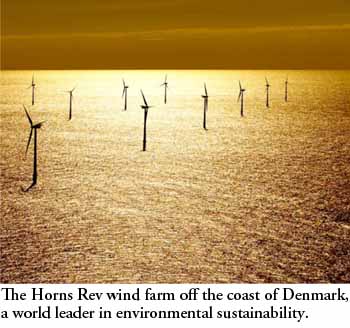 Countries like Denmark have been generating wind power for decades, giving them plenty of time to monitor the environmental effects.
Building on that experience, Denmark plans to increase its independently generated wind energy from 23 per cent of consumption at present to 50 per cent by 2025.
Even so, the United Kingdom is about to take over Europe's lead. In a dramatic change of energy policy, the UK plans to increase wind power more than 300 per cent by 2020. As a result, offshore wind farms could be generating enough electricity for every UK home by 2020. And in October 2007, the UK replaced Denmark as the world leader for offshore wind energy.
Other countries, too, are taking advantage of this source of clean, renewable energy. So are other provinces — all nine of them, in fact. And B.C. recently joined them in October 2009 with the opening of the Bear Mountain Wind Park near Dawson creek supplying enough electricity for 38,000 average B.C. homes.
Several more wind projects will soon be coming online including the Knob Hill Wind Farm on Vancouver Island and the Dokie Ridge Wind Project near Chetwynd.
B.C.'s greatest wind potential is in the Peace River region, northern Vancouver Island, the Okanagan, the Kootenays with even more potential in offshore wind farms along the coast.
These locations offer ideal geography and climate conditions for wind power. The longstanding experience of European countries, meanwhile, offers us an environmentally responsible model.
Also worth checking out...
Click here... to watch a short film with residents discussing Manitoba's St. Leon wind farm
Click here...

to watch "On Dancing Air: The Story of Wind Power" - a seven-minute film that covers 5,000 years of wind energy history, explains how wind turbines work and shows some possible future developments
Click here... to see how wind power works - an interactive demonstration from National Geographic
Green energy resources for B.C.